The initial phone call is our first meet-up where we can talk a little about the project and get to know each other. We are curious, so we'll ask you lots of questions about your unique project. GSB Designs will also discuss our fees and services to see how we can best meet your needs and budget.
Step 2: Onsite
We are a collaborative design firm and want to hear what you love about your space and what isn't quite working for you. We've found the best way to do this is to schedule an onsite walk through. This will give us a better sense of the project scope and we'll be able to hone in on your vision and goals for the space, you will also receive design advice and recommendations!
Fee: $200 1-Hour Onsite Visit
Step 3: Contract Review
GSB Designs will prepare a contract for review and answer any concerns or questions you may have. Each project is unique so depending on the scope we'll measure the space or use your existing floor plan to develop a design plan.
Step 4: Presentation
The presentation meeting is where we'll review the design concept and layout including finishes, furnishings, and elevations. You'll be able to see the actual paint colors, fabrics, lighting suggestions, tile or flooring samples and how we'll incorporate some of your unique furniture and accessories. Everyone has a story; our homes and work spaces need to reflect our individuality.
Step 5: Let's Make it Happen!
We will implement the design and work with contractors and vendors to gather pricing and project timelines. GSB Designs can be onsite for project meetings and project management to make sure everything runs smoothly and to address questions and concerns along the way. Once we are finished, GSB Designs will have transformed your space into a wonderfully designed interior that will meet your needs and exceed your expectations!
LEED DESIGN
In 2005 Steve Jobs gave a commencement address at Stanford University where he made some sanguine observations about his unique journey in life. While referring to his education and the varied classes he took Steve said this:
"You can't connect the dots looking forward; you can only connect them looking backward. So you have to trust that the dots will somehow connect in your future. You have to trust in something – your gut, destiny, life, karma, whatever."
I graduated from Cornell University with a Bachelor of Science in Design and Environmental Analysis. It's a mouthful I know! The concept of design and how we interact and are affected by our environment was instilled in me as an undergraduate. The interaction between self and the environment was my design focus prior to the inception of LEED and the movement spearheaded by the United States Green Building Council [USGBC]. In 2001, USGBC created LEED to measure and define what green building means. LEED stands for Leadership in Energy and Environmental Design. There are eight tenets of LEED which provide a framework for building healthy, highly efficient, and cost-saving green buildings and interior spaces. USGBC's goal is to provide people and their communities with safe and healthy places to live, work, learn and play. In 2009 I became certified as a LEED AP ID+C [Associated Professional with specialty in Interior Design and Construction].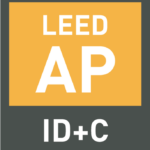 Being environmentally aware may have been a choice years ago; today it is a way of life. We are increasingly aware of the impact our design choices have on the environment. Combining my DEA degree and LEED AP certification has shaped my philosophy on design and positioned me as a designer who can lean in and embrace new environmental principles and best practices for interior designers.
As an undergraduate, I never considered that design could or would influence the health of the planet, but today I can look back and see how those dots have been connected. While working with you on a project I will present options that are beneficial for health and the environment: woods that are Forest Stewardship Council [FSC] certified ensuring that the wood is harvested in an environmentally responsible and sustainable manner; paints that are clay based, use natural dyes and are low in VOC's [volatile organic compounds]. Many manufacturers are creating products which contain recycled materials, and which send minimal waste to landfills- some even have a net zero waste stream! These wonderful options allow us to have beautiful choices without sacrificing function or aesthetics.
Steve Jobs also said:
"You've got to find what you love. Your work is going to fill a large part of your life, and the only way to be truly satisfied is to do what you believe is great work".
I LOVE what I do! Creating spaces that enhance, enrich, and improve your home or office while remaining true to our environmental responsibility is truly GREAT WORK!
I'll take care of the details, because the details make the design!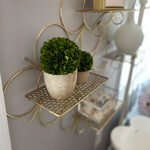 Want more design inspiration?
your information will never be shared with any third party